(an open letter to "Nicole" of the Subic Rape Case)

What a Women's Month gift you gave us, Nicole.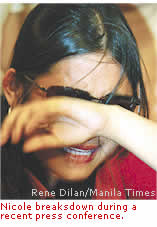 After obtaining a conviction in your case, after everything, you suddenly threw it all away. Little by little, you had been working towards victory. He was convicted. He was not being held in our jails, true, but people were working on that. You had faced the public brouhaha the case engendered. You had been through the innuendoes, the malice and the rumors. You were nearly out of the tunnel, Nicole. Then you took it back. Your statement admitted you had behaved improperly, that perhaps you had been mistaken in what happened.

What does it look like now, to us? The newspapers say that you took the 100k he offered and emigrated to his country. They say that you went to join one of his countrymen. We feel betrayed.


I feel betrayed. I had viewed your case as something quite close to the one in "Inherit the Wind." You were a symbol to us of all our countrywomen who had been oppressed by foreigners simply because of our nationality, and far greater insult, this time the oppression had occurred on our own native soil. Would we let the foreigner get away with it? Of course we needed to show that we are not the pushovers they take us to be. We needed to show that the Filipina, despite her submissive reputation as a domestic helper, as a mail-order bride, even as a prostitute, also had dignity and was entitled to respect. Since you were the one involved, you became that symbol, Nicole.

In the end, you stood for none other than o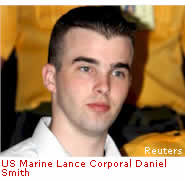 ur own motherland, which in the words of the song:

"...pag-ibig nasa kanyang palad,
nag-alay ng ganda't dilag,
at sa kanyang yumi at ganda,
dayuhan ay nahalina...
bayan ko, binihag ka, nasadlak sa dusa."

(Love was in her hands,
she offered beauty and splendor,
and because of her gentleness and beauty,
the foreigners were attracted.
My country, you were taken captive and plunged into despair.)

Did it ultimately prove too much for you, Nicole? Did you just want to shout that you cannot be the statue on the pedestal that everyone wanted you to be? Or did you not realize how great a symbol you had become?

A friend of mine says that perhaps you were not strong enough, that was why you gave up the fight. She says perhaps if you had a more activist mentality, perhaps if you had been more idealistic, you might have seen the fight through to the end. As it was, she said, like most of us maybe you just wanted to give up. After all, "what justice could there be in this country?"

Others are only all too ready to heap blame upon your head for your acts, saying that since by your own admission, you were promiscuous after all, you deserved no respect and you proved it by skipping out on the rest of us. Some think that you were all too ready to give up the fight for a little money and the golden opportunity to emigrate to the "land of plenty." Implying, of course, that you are really just no better than the gold-digger which some people in other countries label us Filipinas to be-- all too ready to lie down and spread her legs for a little cash, long devoid of any inherent dignity. And that image does not help us at all.

Why, Nicole, why?

I do not know you as a person. Still, I do not want to condemn you for what many of our other sisters have done by reason of poverty or external pressure. Our country has long rationalized many acts in the name of personal prosperity-- how else would it attain the level of corruption the world perceives in it? We know the concept of "kapit sa patalim" (cling to the knife)-- the justification why so many of our countrymen leave the country to work in other places, no matter if they are overeducated for the job, just as long as it pays better. It takes a person with backbone to stand against that concept, to refuse to be one of those who subscribe to it.

I know too, how in this country things can be deceiving on the surface. I know how innocence can be twisted till it looks the very picture of guilt. I know too how guilt may be whitewashed till it looks the very image of innocence. I know how great a role money and influence play in those transformations, especially when it comes to politics. I know how this can subvert truth till it cannot be found anymore. Which is why, in the face of all the recriminations being laid at your door, even in my disappointment I do not want to judge you, Nicole.

What happened, Nicole? Only you know the truth... but then again, when it comes to this country, does anyone ever know the truth anymore?